As a digital marketing agency, we work with clients from a range of different industries.

Every client has their own unique business needs, whether it's generating leads, raising awareness of their offering, increasing customer retention, or finding a key point of difference from their competition.
It's important to tailor the right marketing mix to meet these goals in the most measurable and cost effective way.
Digital is a key component of any marketing mix and we enlist the help of some powerful online tools to streamline or improve reporting across social media, data analytics and production.
To help you get more from your marketing campaigns we've picked out five powerful tools from our digital marketing toolkit.
Tools Of The Trade
1. Unbounce – Rapid Landing Page Creation
Good landing pages can dramatically increase the effectiveness of your digital advertising campaigns.
Whenever you run an AdWords or Display Advertising campaign, we always recommend that you create a tailor made landing page specific to your offer. In fact, it's best to create a mix of landing pages for each campaign, allowing you to experiment with different creative and messages through A/B split testing.
By providing a clear, single call to action and a message highly tailored to your advertising, visitors to your landing pages are more likely to find what they're looking for.
Developing landing pages can be expensive and difficult for marketers, especially those that lack an in-house development team. In fact, getting landing pages built and tested is one of the top five challenges faced by B2B marketers (Source: Marketing Sherpa).
Unbounce lets you easily roll out and manage your landing pages quickly and easily. The great thing about this tool is the amount of customisation and integration that it has on offer. There's a great number of pre-built templates to serve as a starting point and, you can roll out your own designs using a simple WYSIWYG editor. With mobile use the highest growing space for digital, your landing pages can be optimised for both desktop and mobile.
If you know a bit of web development you can do pretty much anything. Create two-step conversion forms, implement scripts across your landing pages for analytics, remarketing, heat mapping, and more.
Every marketing campaign has different goals and often even different audiences. Each page needs to be designed independently to provide the best tailored experience for your audience. Often you need to experiment with your landing pages to find out what works best and Unbounce makes that a lot easier.
Find out more about Unbounce at their website.
2. Crazy Egg – Heat Mapping
Revising and experimenting with digital marketing campaigns can be a great way to learn more about your consumer and how to get the best results for your spend. Whether it's a website page or a landing page for a specific campaign, you want to know what our users are doing and you want that data to be easy to understand.
While tools like Google Analytics are great at providing a lot of information about what a user does on your site, they don't tell you the whole picture. There are excellent insights to be found when you can see what people are doing while on your pages. That's where Crazy Egg's heat mapping tool comes into play.
Crazy Egg's click heat map tells you where visitors have been clicking on you web pages, allowing you to add new links or rearrange certain elements to enhance conversions.
This will tell you when you need to make buttons more obvious and will help you highlight misleading or confusing content. This is great for improving conversion focused pages on your website, or your landing pages. It's also a great tool for testing the usability of your website in general.
There's also a scroll mapping tool that shows you where people are scrolling and lingering on a page. Find out how engaging your content is, and work out the best place to put your offer and call to action. There's also support for A/B split testing and unique configurations, and the tool is super easy to setup and use.
Learn more about Crazy Egg.
3. Moz Analytics – Site Analysis
It's always great to know what's going on at a more granular level. You want to know how specific pages are ranking in search engines, what can be optimised on-page for better results, and who's linking back to your site. Moz makes that all possible.
By integrating with your website, Google Analytics and social media accounts, Moz can track and monitor a lot of marketing data. Get regular updates of any page or content errors, develop and report on keyword lists to monitor how well you're performing in search engines, and compare your website against your competitors.
The on-page grading tool allows you to focus on optimisation at a single page level. Moz provides opportunities and recommendations based on the information it tracks from the accounts that you integrate with it, making it a very powerful optimisation tool.
Moz also keep an excellent blog covering digital marketing, search and site optimisation.
You can find Moz here.
4. Screaming Frog – Site Analysis
Screaming Frog is a neat little site analysis tool that can be downloaded for free.
The tool can be used to crawl your website, looking for opportunities to improve the health of your site, SEO and helps you with link acquisitions.
Use Screaming Frog to run a diagnostic test on your website to check for site errors. Ensure code like header tags are being properly used, and gauge site load response times.
These insights allow you to pave the way toward optimising your site for improved search and usability, attracting additional leads and reducing your cost per sale.
Check out Screaming Frog here.
5. Hootsuite – Social Media Management
Good content creation is often a critical part of any marketing campaign, and social media is vital to sharing and amplifying your content with your target audience.
However, maintaining accounts across a number of different social media platforms can quickly become a time-sink, especially when trying to keep track of several accounts.
With five social media dashboards open at once, all with different interfaces, posting your new piece of content at the right time is hard enough, let alone managing user interactions.
Hootsuite brings together the bulk of your social accounts into a single dashboard, with support for over 35 networks including Facebook, Twitter, LinkedIn, Instagram, Google Plus, YouTube and more.
The tool not only allows you to post content organically and switch seamlessly between platforms, it also saves you a lot of time with a great scheduling feature.
Instead of working on a post by post basis, you can plan a whole month's content in advance and schedule it all within minutes. This allows you to focus more on your social media strategy, and less on administration.
Hootsuite works great for social media engagement. You can easily setup different streams that search for popular topics on each platform based on factors such as language, keywords or location, or monitor who is talking about your brand or product and engage with them.
The tool includes some great reporting and analytics functionality and supports teams, allowing multiple people to work across the accounts with different levels of access.
Get the low down on Hootsuite at their website.
Bringing Your Campaigns Together
We've covered just a few of the tools we use to manage our digital marketing campaigns. It's one thing to have the right tools, it's another to know how to use them effectively.
If you need help bringing your next marketing campaign to life, why not drop us a line and find out how our digital marketing specialists can get real results for your business.
There's no denying it, Christmas time is a frenzied free-for-all both professionally and personally. There's so much to organise and time never seems to be on your side but thankfully these four digital tools will make your life a little easier this holiday season.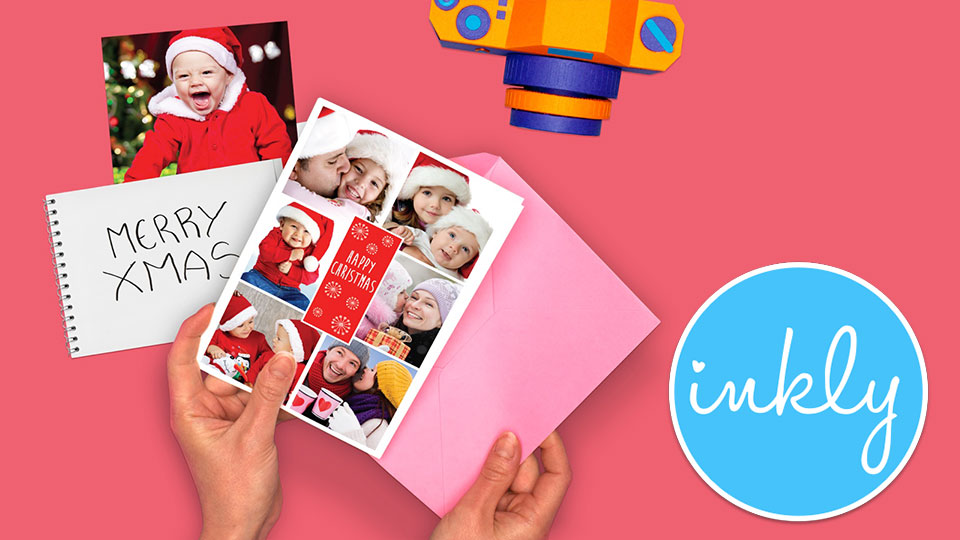 Inkly
Inkly puts a modern, technological spin on what sadly seems to be a dying art – greeting cards.
Available from the Google Play and Apple App stores, this nifty tool allows you to create and send your own personalised Christmas cards. These days, texts and social media posts seem to be the go-to way of passing on wishes to friends and family but it can be impersonal. This is where Inkly truly shines. You first select from more than 1,300 card designs, then you write your personal message on a piece of paper and take a photo of it with your phone or tablet and, voila, it transfers the message to your card.
You can also add and crop your own photos to give your card that personal touch. Once it's all done type in the address and the card is sent off for printing and delivery.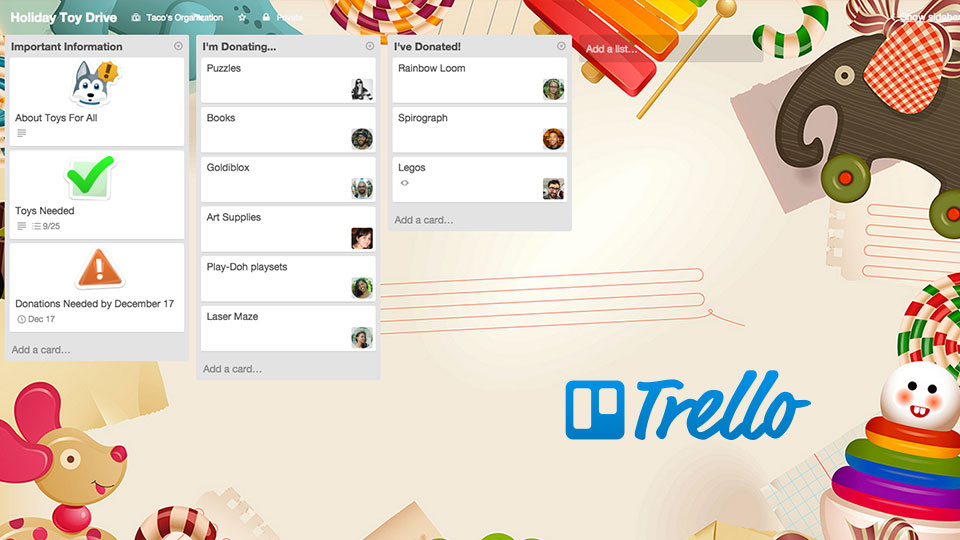 Trello
Keep track of tasks with Trello, a desktop and mobile tool that provides you with a visual and flexible way to organise all of your tasks.
Break up your jobs into columns such as 'Christmas family dinner' and 'presents to buy', and add images or text in the form of cards, which act as to-do list steps under the respective columns.  If you're doing Christmas shopping with others, you can add them to your Trello board and update it in real-time to see who has purchased specific presents and determine which gifts still need to be bought.
You can also add files from your computer and other online drives such as Google Drive and Dropbox for a more integrated experience.
Elfster
Whether you love it or hate it, Christmas wouldn't be complete without a Secret Santa (Kris Kringle or Amigo Secreto or whatever you want to call it). But sometimes these can be a nightmare to organise. That's where Elfster can help.
Elfster is a free online Secret Santa organiser. Simply invite your colleagues, family and friends to Elfster, set a dollar value for the gifts and the tool will randomly (and privately) generate your Secret Santa. The tool even has a FAQ section where you can anonymously ask your assigned Secret Santa questions about interests and preferences to get ideas for gifts they might like.
It's what we're using for our Kris Kringle this year, and shout out to software developers, inoutput for putting us onto this great tool.
Big Oven
Among all the craziness that's going on at work and at home, it can be difficult to organise meals over Christmas but luckily, the Big Oven app has got your back.
Available on both Android and IOS, it allows you to find highly-rated recipes for various occasions, including Christmas. It also allows you to create and manage grocery lists. If it's your turn to host the big family Christmas lunch and/or dinner then you can create meal plans and menus, share them through social media and email the information to let attendees know what will be served.
The app even lets you manage your leftovers by allowing you to type in up to three ingredients which then generates a list of meals you can make from them.
---
Do you know of any useful tools that can help make Christmas run smoothly? Be sure to let us know.
We're always interested in learning something new and keeping up-to-date with trends and ideas in the marketing space.

We encourage sharing our skills and knowledge with each other and we also like to regularly consume information produced by experts in the marketing, advertising and digital space. So, we've put together a list of our five favourite and most-trusted resources in the hopes that it might help you, too.
AdNews
Format: Magazine
About: AdNews is Australia's leading trade publication serving the advertising, marketing and media industries. The magazine was founded in 1928 and is published as a fortnightly print title as well as a daily email newsletter and website.
Why we love it: A staple in most advertising and media agencies, AdNews provides information about the advertising and marketing sectors which we find both interesting and invaluable. We especially like the features on real campaigns which demonstrate how agencies have taken ideas and created tangible messages. The magazine is also full of lots of insider goss, and little insider secrets and snarky remarks. The print magazine is also a great keepsake and we often have several past copies floating around our office.
Brand Newsroom
Format: Podcast
About: Brand Newsroom is an Australian podcast about content marketing produced by Lush Digital. Three presenters including James Lush, Nic Hayes and Sarah Mitchell weigh in each week on current issues and challenges in content marketing.
Why we love it: The presenters of this podcast bring extensive industry experience and knowledge to every podcast, making for thought-provoking discussions. Australian case studies are often cited, meaning the information shared is relevant to our marketplace. Content marketing is also a relatively new and growing area in the digital space and this podcast helps us to follow current trends, findings and practices. With each podcast running for about 20 minutes, it's a great one to listen to on our daily commute.
The Moz Blog
Format: Blog
About: The Moz Blog offers up the best advice, research, how-tos, and insights about SEO and online marketing.
Why we love it: With several articles published each week, it helps us to stay in the loop with new information in the digital marketing space including SEO, conversion rate optimisation, landing pages, search data, online customer relationship management and so on. We find the articles valuable because they're written by industry leaders and professionals who are 'in the know' about the latest developments. The tips shared are directly applicable to the work we do, and the level of expertise shared is second to none. We're especially big fans of Rand Fishkin's Whiteboard Fridays which provide some great insights with practical examples.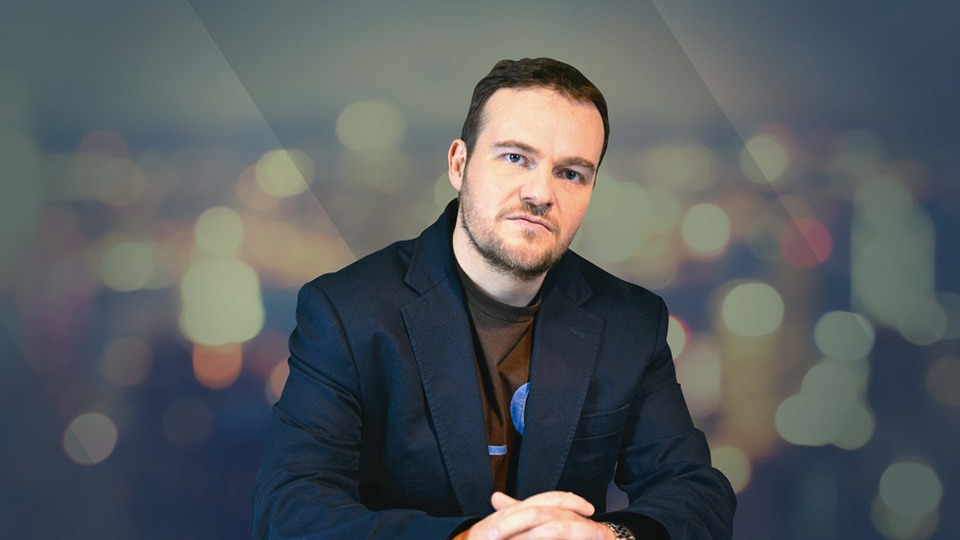 Mumbrella
Format: Digital magazine
About: Mumbrella is an online news publication that covers everything under Australia's media, marketing and entertainment umbrella.
Why we love it: The publication is a leading source of news for the marketing and media industries, meaning we can keep our finger on the pulse. We often find out about latest moves and news in the industry at Mumbrella first, before it is published elsewhere. They also share an interesting mix of news and opinion pieces about the people and businesses that operate in Australia's media industry. They're also not afraid of some strong editorial, and often highlight some pretty great marketing bullshit.
A List Apart
Format: blog/ digital magazine
About: A List Apart explores the design, development, and meaning of web content, with a special focus on web standards and best practices.
Why we love it: This online publication is a great thought leadership tool for marketing and creative agencies, designers and developers. Their articles cover a broad range of topics and are quite forward-thinking when it comes to new techniques and considerations. They have a strong focus on digital and cover topics including usability, accessibility and user experience design, as well as issues that affect the day-to-day of an agency.
---
TELL US: What is your favourite resource for marketing, advertising or digital information?