Santa Claus has changed the way he populates his annual naughty or nice list, and people's social media behaviour will now determine whether they receive Christmas gifts.
A statement released from the North Pole's Department of Justice said Santa and his team of elves had introduced a social media act to define the types of behaviour that would be deemed acceptable and keep people in Santa's good books.
"People who share cryptic posts, repeated game requests and extremist rants will be strong candidates for the naughty list," the statement read.
Head elf Holly Snowden said Santa took social media behaviour seriously and anticipated that 2016 would be a bumper year for the naughty list.
"Since Santa has moved his focus to social media use, we've found that the balance of naughty or nice has been way off kilter," she said.
"Never before have we had such a migration of nice names to the naughty list."
Ms Snowden said an influx of gym selfies, photos of green smoothies and political rants in favour of Donald Trump explained this year's surge.
"Social media is the most effective way to monitor behaviour," Ms Snowden said.
"Santa Claus himself is an avid user of social media, but nothing irks him more than when people don't use it responsibly."
Being left off Santa's nice list is an experience Candice Sweet does not want to repeat.
"I was totally crushed last Christmas when my tree was left bare," she said, with tears in her eyes.
By noon on Christmas Day she'd received a stern text message from an unknown number.
"It said I'd been moved to the naughty list because of all the Candy Crush requests I'd sent to my friends," she said.
Joe Green can sympathise, after he received a similar message last December due to the hours he clocked up playing FarmVille.
"I only used it for workplace training," he said, although he's since deleted the game from his phone.
Neither Ms Sweet nor Mr Green are taking any chances this year.
Although Ms Sweet was determined to be a better social media user this year, she almost jeopardised her chances.
"I was so upset after I didn't get any presents from Santa that I wrote on Facebook how depressed I was," she said.
"When my friends asked what was wrong, I couldn't bring myself to tell them. Then a few days later I got an official warning from the North Pole."
The email sent to Ms Sweet stated that "vaguebooking" and "using social media as an outlet to whinge" were offences that could see a person's name moved to the naughty list.
As per the email's suggestion, Ms Sweet enrolled in the North Pole's Responsible Use of Social Media (RUSM) online course and is feeling confident that she will be deemed nice this Christmas.
The controversy is sure to continue this year, however with RUSM enrolments growing, it seems some people are taking social media use more seriously.
Those looking to remain on Santa's nice list are advised to avoid oversharing, use fewer hashtags, be clear and concise in posts and stick to tasteful language use.
There's no denying it, Christmas time is a frenzied free-for-all both professionally and personally. There's so much to organise and time never seems to be on your side but thankfully these four digital tools will make your life a little easier this holiday season.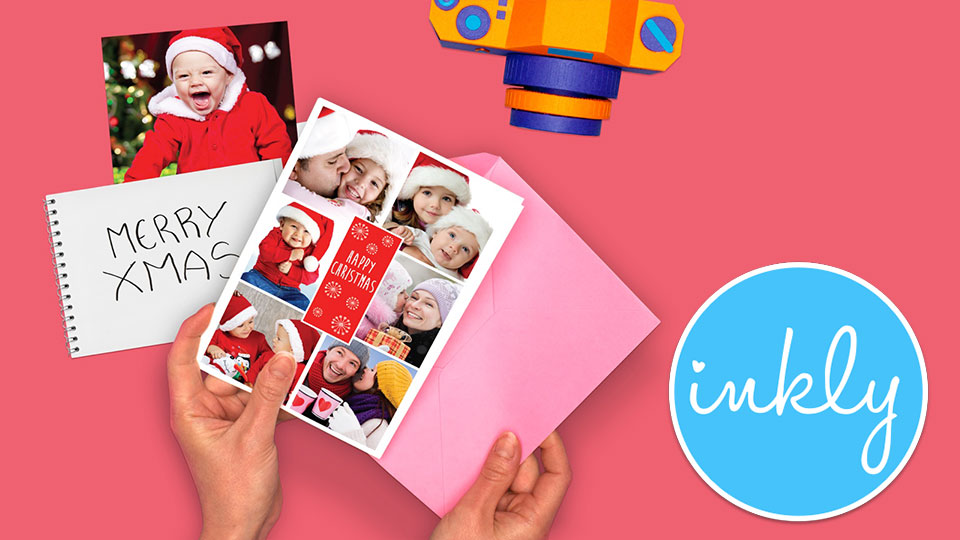 Inkly
Inkly puts a modern, technological spin on what sadly seems to be a dying art – greeting cards.
Available from the Google Play and Apple App stores, this nifty tool allows you to create and send your own personalised Christmas cards. These days, texts and social media posts seem to be the go-to way of passing on wishes to friends and family but it can be impersonal. This is where Inkly truly shines. You first select from more than 1,300 card designs, then you write your personal message on a piece of paper and take a photo of it with your phone or tablet and, voila, it transfers the message to your card.
You can also add and crop your own photos to give your card that personal touch. Once it's all done type in the address and the card is sent off for printing and delivery.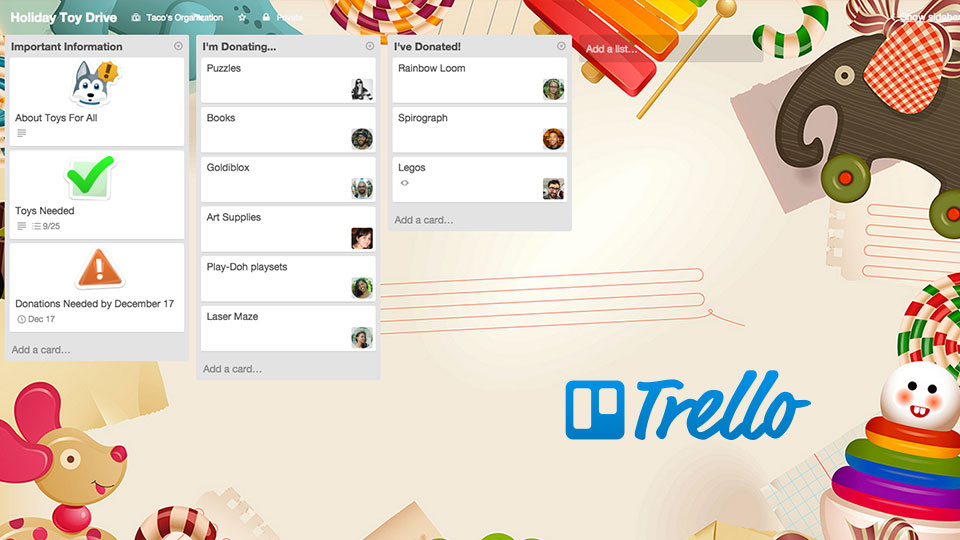 Trello
Keep track of tasks with Trello, a desktop and mobile tool that provides you with a visual and flexible way to organise all of your tasks.
Break up your jobs into columns such as 'Christmas family dinner' and 'presents to buy', and add images or text in the form of cards, which act as to-do list steps under the respective columns.  If you're doing Christmas shopping with others, you can add them to your Trello board and update it in real-time to see who has purchased specific presents and determine which gifts still need to be bought.
You can also add files from your computer and other online drives such as Google Drive and Dropbox for a more integrated experience.
Elfster
Whether you love it or hate it, Christmas wouldn't be complete without a Secret Santa (Kris Kringle or Amigo Secreto or whatever you want to call it). But sometimes these can be a nightmare to organise. That's where Elfster can help.
Elfster is a free online Secret Santa organiser. Simply invite your colleagues, family and friends to Elfster, set a dollar value for the gifts and the tool will randomly (and privately) generate your Secret Santa. The tool even has a FAQ section where you can anonymously ask your assigned Secret Santa questions about interests and preferences to get ideas for gifts they might like.
It's what we're using for our Kris Kringle this year, and shout out to software developers, inoutput for putting us onto this great tool.
Big Oven
Among all the craziness that's going on at work and at home, it can be difficult to organise meals over Christmas but luckily, the Big Oven app has got your back.
Available on both Android and IOS, it allows you to find highly-rated recipes for various occasions, including Christmas. It also allows you to create and manage grocery lists. If it's your turn to host the big family Christmas lunch and/or dinner then you can create meal plans and menus, share them through social media and email the information to let attendees know what will be served.
The app even lets you manage your leftovers by allowing you to type in up to three ingredients which then generates a list of meals you can make from them.
---
Do you know of any useful tools that can help make Christmas run smoothly? Be sure to let us know.
With the festive season around the corner it's time to dust off the Christmas tree, roll out the tinsel and don your favourite tacky jumper.
The Christmas period is not just about trees and tinsel though, it's also a great opportunity for you to better connect with your customers and clients, and build on those existing relationships.
Here are three easy ideas marketers and businesses can use to connect with customers this Christmas.
1. Send An Exciting Christmas Email
Christmas themed emails serve as a great touch point for you and your clients but the key is to make the message personal. We've all received a Christmas card with a generic picture of Santa and a standard Hallmark greeting – not very memorable, to say the least.
It's important not to waste this opportunity. Your Christmas email should stand out and make the recipient truly appreciate what you've put together.
Using custom artwork, animation or even just photos of your team will help your card stand out. Consider publishing a Christmas-related article on your website (such as 'Five Great Christmas Gift Ideas", or "Business Trends This Christmas") which you can include in your email to make it relevant and useful to your audience.
As in all your communication, show your clients that you value their choice in continuing to use your product or services. Tell them that you look forward to doing business with them next year and make them feel appreciated. This humanises your brand and shows that you genuinely care about the relationship you have with them.
2. Follow Up Your Email With A Physical Christmas Card (with a handwritten message!)
Although technology makes our lives easier, it also tends to make things seem impersonal.
Break through that barrier and send a handwritten physical card. Handwriting a sincere message on a custom card, with a photo of the team or a custom illustration, will be memorable and personal. To make it even more personal, make sure the message comes directly from the person your customer or client deals with most – their account manager, sales person, or store manager.
3. Put A Special Treat In Their Stocking
If you're not a modern day Charles Dickens and writing isn't your thing, you can always take the gift approach.
Put together some small gift packs or hampers for your clients to show that you appreciate their business. But don't just throw in any old junk you can get your hands on; make it fun.
Ditch the old USB sticks and mouse pads and go for something a bit cooler – consider including wine, chocolates, or a unique gift that demonstrates your relationship with the client. If you know what your client's favourite brand of wine or chocolates is, be sure to give them that. It'll show you pay attention to detail and have made the effort to give them a gift they'll actually like.
It's even better if your gift can demonstrate what your business does, either being a product you create or sell or, as in our case, showing off a bit of your design flair.
Time To Stand Out This Holiday Season
Use the holiday season as an opportunity to get a little creative and personal with your clients, and foster that relationship. We love the work we do for our clients, and we want them to know that.
---
If you haven't got the time or expertise to create your Christmas promotions, why not contact us to find out how we can help you stand out this Christmas.