The Camberwell Centre Association represents more than 700 retail and professional service providers in the Camberwell shopping precinct, located in Melbourne's affluent eastern suburbs.
Assemblo has worked with the Camberwell Centre Association since 2010, providing regular strategic marketing and advertising (traditional and digital), branding, website development and event management.
We helped modernise Camberwell's approach to marketing to better incorporate the ongoing changes and challenges from social media, online retail and the ever-changing face of street retail. As well as attracting new customers to the street and promoting the vibrant B2B sector, we have also worked with local council and government on behalf of the members of the committee.
"Assemblo have gone above and beyond to provide a complete marketing solution to bring together our digital and traditional campaigns to ensure a consistent message."
Empowering Camberwell locals to support restaurants and food retailers in their community during the COVID-19 pandemic.
The business challenge
Making it easy to support local restaurants.
Camberwell Centre Association represents hundreds of retail, hospitality, and service businesses along Burke Rd and Camberwell Junction. These businesses, which have traditionally relied on foot traffic, were faced with a huge challenge when Victoria went into lockdown during the 2020 COVID-19 pandemic.
To adapt to the unpredictable business environment, Camberwell Shopping knew they needed to pivot and were looking for an opportunity to revitalise the retail and hospitality scene within Camberwell.
Their goal was to reach local homes in a memorable way while supporting the local traders that had helped to make Camberwell such a great community over the years.
The insight
Locals wanted to support the 100+ food and dining businesses in Camberwell, but weren't always sure how.
With Melbourne metropolitan residents bored out of their minds and unable to enjoy dining out at their favourite cafes and restaurants, they were more eager than ever to indulge in their favourite cuisines from home. This prompted the food and dining industry's widespread shift to a delivery model, with businesses making their menus widely available through the lockdowns.
Meanwhile, the impact of the pandemic on retail and hospitality businesses garnered widespread sympathy and support, with residents making concerted efforts to purchase from local cafes, restaurants, and eateries. A 5km travel radius further limited traders' abilities to reach their audience outside of this radius.
"Assemblo worked quickly to bring together an excellent strategy that supported our food and dining traders, and ensured they were still front of mind with their customers during difficult times."
The idea
Bring the flavours of Camberwell into local homes.

Assemblo's aim was to support the hospitality industry by capitalising on the high sentiment to support local businesses. We worked closely with Camberwell Shopping to develop 'What's on the menu?', a campaign showcasing the diverse food offering available to enjoy at home or when eating out.
With high uncertainty around restrictions and businesses' opening hours, flexibility and speed were key to the success of the campaign. As such, the print component of the campaign was kept flexible, focusing on the unique cuisines available in Camberwell rather than on specific businesses.
Assemblo created a bespoke booklet which was delivered to 30,000 local homes and businesses within the 5km radius. Through the booklet and online messaging, customers were encouraged to visit the campaign website, where the articles were housed alongside a complete list of traders for each category. The website featured up-to-date and highly detailed trading information, as well as links to online and phone ordering for each business.
To further support this campaign, we ran custom video ads, campaign ads, and article boosts on social media which were targeted to users within the 5km lockdown radius, ensuring the campaign leveraged its budget as effectively as possible.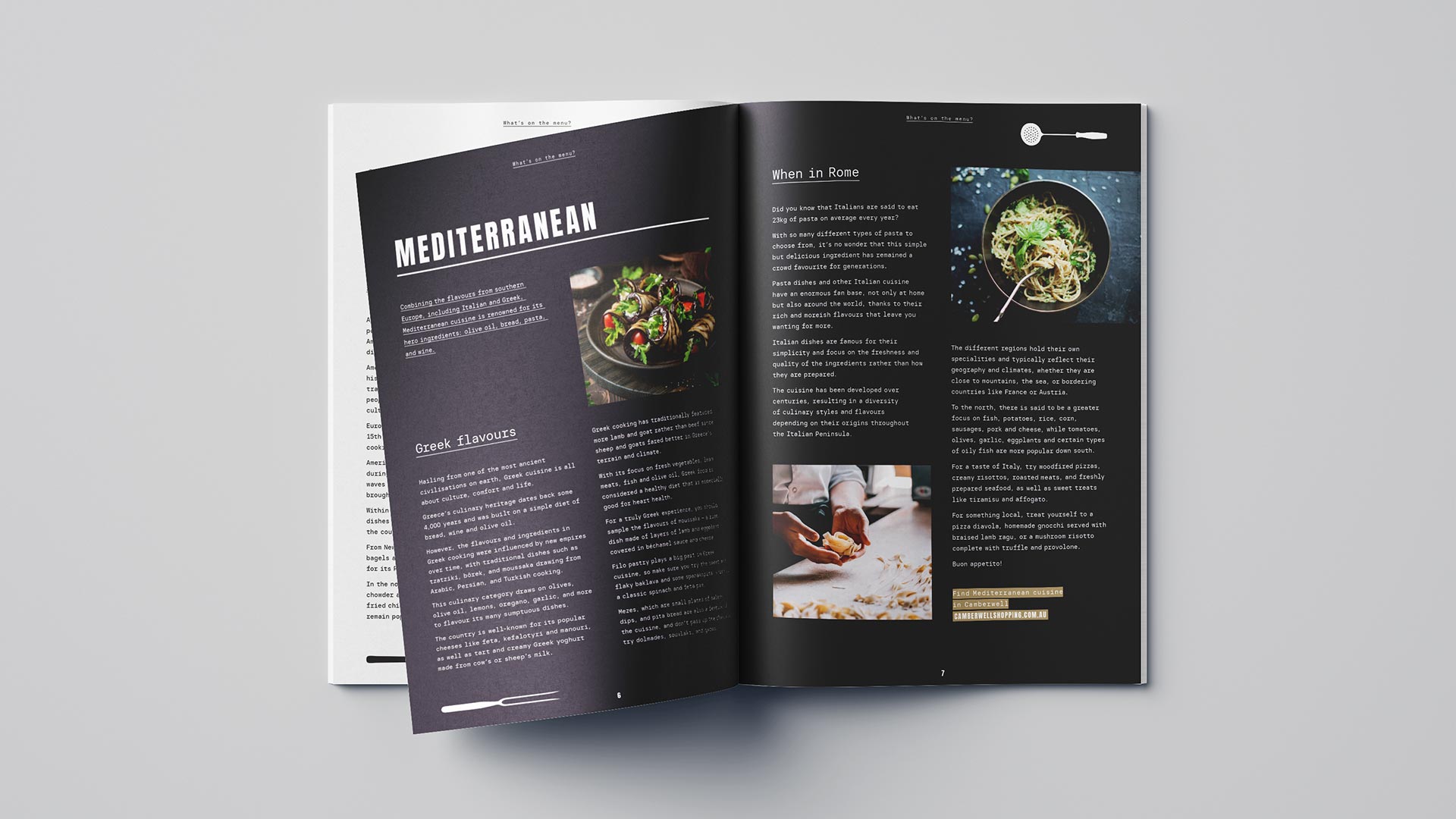 The impact
The campaign achieved fantastic results over its two-month period, including:
60,000 unique pageviews to the campaign articles, trader directory, and website during the campaign
More than 100,000 complete playthroughs (ThruPlays) of the promotional video across Facebook and YouTube
700,000 impressions reaching more than 260,000 unique people on Facebook alone
Positive feedback and buy-in from traders and the local community alike, lending their support during this unpredictable time.
The success of the 'What's on the menu?' campaign relied heavily on a speedy and agile approach to capturing and leveraging a strong trader database, which enabled us to support the hospitality industry during a time when their usual approach to business had been so heavily disrupted in unpredictable ways.
Assemblo is proud to have helped countless local businesses to navigate the unique challenges brought about by the pandemic. We continue to work with traders to develop effective strategies and campaigns to keep Melbourne's small business community thriving.
All case studies for Camberwell Centre Association
Read more case studies