The Camberwell Centre Association represents more than 700 retail and professional service providers in the Camberwell shopping precinct, located in Melbourne's affluent eastern suburbs.
Assemblo has worked with the Camberwell Centre Association since 2010, providing regular strategic marketing and advertising (traditional and digital), branding, website development and event management.
We helped modernise Camberwell's approach to marketing to better incorporate the ongoing changes and challenges from social media, online retail and the ever-changing face of street retail. As well as attracting new customers to the street and promoting the vibrant B2B sector, we have also worked with local council and government on behalf of the members of the committee.
"Assemblo have gone above and beyond to provide a complete marketing solution to bring together our digital and traditional campaigns to ensure a consistent message."
Building a powerful digital platform for vibrant street retail
As one of the first points of contact that shoppers have with Camberwell, leveraging a powerful website has been vital to the success of the precinct.
The website redesign focused on content aggregation and content marketing, aimed at better promoting and helping individual traders. It was also designed to cross-promote and keep users on the website for longer.
The responsive design introduced challenges around the diversity of potential content, and the site needed to be able to work with detailed offerings as well as simpler ones.
The site provides a great platform for promoting a variety of information, including introducing a section to update members of the association with their own news and blog. Key promotional activities, such as events, competitions and traders' offers are easily navigated.
As the previous website served about 10,000 unique visits every month, it was extremely important to make sure the switch between the two sites affected users as little as possible. All of the old content was migrated and cleansed to suit the new site, resulting in no downtime for users and minimal impact on search results.
The site features a detailed directory of all traders in the Camberwell shopping area, with cross-links to editorial content on the website and their promotions, a detailed map, individual enquiry forms, links to social media, photos, videos, trading hours, and more. This directory acts as the association database (CRM) and integrates with email marketing and other key marketing software.
More than just a single rebuild, the website continues to be updated and enhanced to provide improved functionality and adapt to the changing habits of users.
The new trader enquiry forms have generated an increase in direct leads to traders, allowing customers to get in touch with traders more easily. Email newsletter sign-ups have dramatically increased on both mobile and desktop, with the email database growing by an average of 40% every 12 months, and overall website traffic growing by 40% since launch.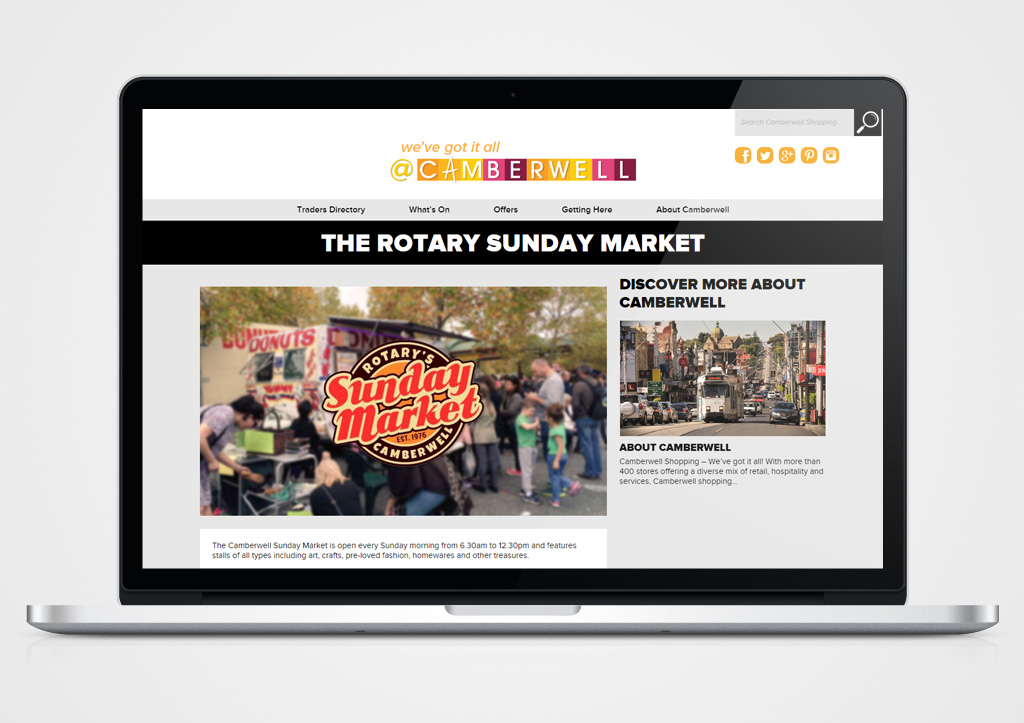 All case studies for Camberwell Centre Association
Read more case studies