Cadre Health Solutions is a boutique nursing agency specialising in anaesthetics and recovery solutions for healthcare practices in Australia.
Cadre was founded in Melbourne by Director Tim Scrivenor in 2019, driven by a passion for improving client satisfaction and industry standards in post-anaesthesia care. The boutique agency is run by nurses for nurses, drawing on Tim's experience as a nurse unit manager in anaesthetics and recovery at Monash Health.
The business challenge
Simplifying and streamlining a complex solution for the modern world of healthcare
With many medical practices such as dentists and radiologists looking to expand their services to include surgery, there was an opportunity in the market for a full-service anaesthetics nursing agency who could provide a complete turnkey solution for these clinics. This covered everything from the fit outs and inventory management to maintenance, anaesthetic, and recovery nurse staffing.
With regulatory changes, the market was evolving. Cadre Health Solutions saw an opportunity to provide a high quality offering focused on superior levels of service and excellence across the board.
As a challenger brand in an established market, Cadre Health Solutions needed a distinctive branding and identity to match their unique market offering.
The insight
Medical practitioners want to focus on doing what they do best for their patients 
With service and excellence as their point of difference, people are at the heart of everything Cadre does, and the brand needed to clearly illustrate this people-first mindset.
The market demonstrated a strong appetite for an offering in this space, focused on a strong team culture, commitment to quality healthcare, and the ability to respond to changing government legislation and policy.
This desire was universal between nurses looking to work with an agency, and practitioners looking for a holistic partner for their clinic's surgical needs. Cadre provided an alternative to dealing with ever-changing staff, workplace politics, and inconsistency.
Both nurses and practitioners want to be able to focus on what they do best – providing quality treatment and care for their patients.
The idea
People are at the heart of everything Cadre does
With people as the focus, Assemblo explored concepts around the idea of being part of something bigger than the individual. In a sea of highly similar clinical logos in the industry, we drew from the nostalgic feel of 60s-70s era scouts to truly differentiate the brand.
The overall design style and supporting graphic elements fit together in a structured grid format, with each part combining to make a whole. A primary and secondary colour palette was developed, which played on the retro feel of the brand. To bring a modern element to the design, a clean and simple sans-serif font was added to the aesthetic.
High-quality print design and paper stocks were selected for branded collateral, further emphasising the company's quality and attention to detail.
The brand was adapted to different mediums, such as staff uniforms, with consideration. Instead of wearing the typical light blue uniforms, Cadre employees wear dark coloured scrubs, contrasting well with the deep orange and cream logo. For business cards, we paired a vintage, off-white coloured stock with Pantone spot colour printing, logo embossing, and edge painting to create a wow factor that makes a strong first impression.
The Cadre website was developed to feature rich interactivity and movement, and embellish the vibrant brand colours and motifs. The site was optimised to allow both nurses and clinics to easily navigate the content and find what they are looking for and explore the diverse product offering of Cadre Health Solutions.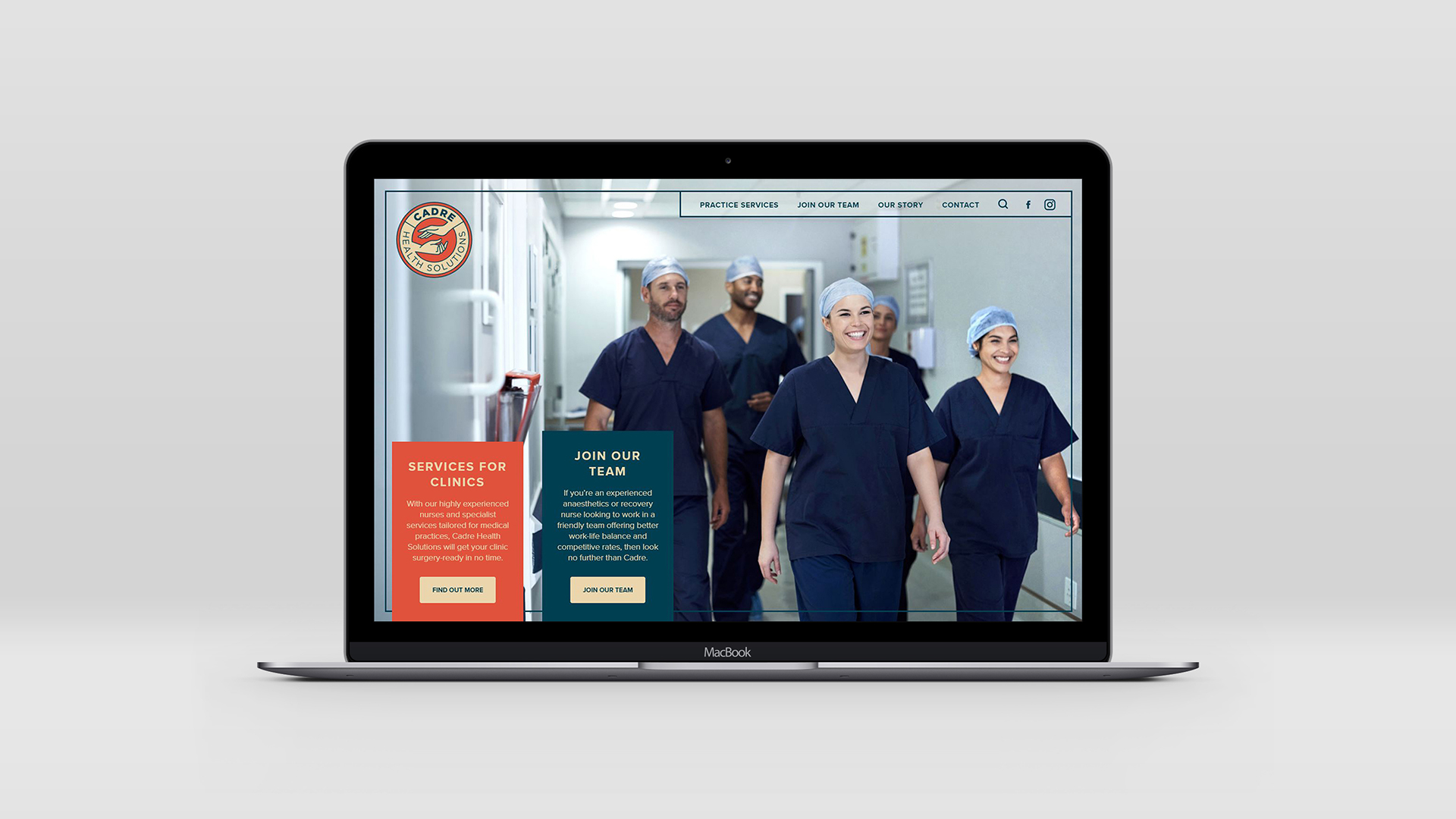 The impact
Outputs from the branding and website include:
The creation of a unique and distinct brand presence in the marketplace
Development of clear brand guidelines, voice, and positioning for all future communications and touch points
A strong foundation and scalable position for future growth of the Cadre brand
Development of effective online tools for capturing leads for new clinics and regular sign-ups for new nursing staff, with a strong foundation for future content marketing and digital advertising activity
The branding exercise was a success, with the Cadre team and its customers loving the result.
Cadre Health Solutions now has an identity with a strong point of difference in its already competitive industry, with the business going from strength to strength since its implementation.
Read more case studies