Have you ever wondered if there was a simpler way to get your customers to subscribe to your newsletter without spending ridiculous amounts of money on A/B split testing and personal selling? With the arrival of Facebook's new lead advertisement units, the customer sign-up process may have found its answer.
The challenge behind customer acquisition
An integral part of the digital marketing mix has always been emails and the database behind them. Emails are a fantastic way to directly communicate with your customers and elicit immediate responses from them on a mass scale, depending on the size of your database.
However, the challenge behind building a database has always been the process of acquiring customers. In the digital space, before lead ads, it required a banner advertisement that directed a person to a landing page filled with sales promotions, meaning there was a lot of information for the user to process before filling out a sign-up form.  This is a long and tedious process involving lots of steps, increasing the likelihood of a customer losing interest and leaving mid-process.
Lead ads solve the problem
Marketers first gained access to this particular advertisement style back in October 2015 but it was only available on mobile devices, and now it's finally come to desktop.
Facebook's lead ads encourage customers to fill out a form or survey and ultimately sign up to a company's database. What makes the ad type so unique is how it simplifies the process and reduces the amount of effort required by the customer to fill out the form.  The customer simply has to click on the call-to-action button and the form automatically populates itself using the information from their profile. What makes these ads even better is that it keeps the customer in the one place. It doesn't redirect them to a landing page – the user remains on the Facebook platform and brings them back to where they were previously browsing once they complete the sign-up form.
Data is easily tracked using Facebook Power Editor to see the typical KPIs such as impressions, reach and engagements, and results can be easily downloaded from the 'publishing tools' page on the associated Facebook page linked to your advertisement.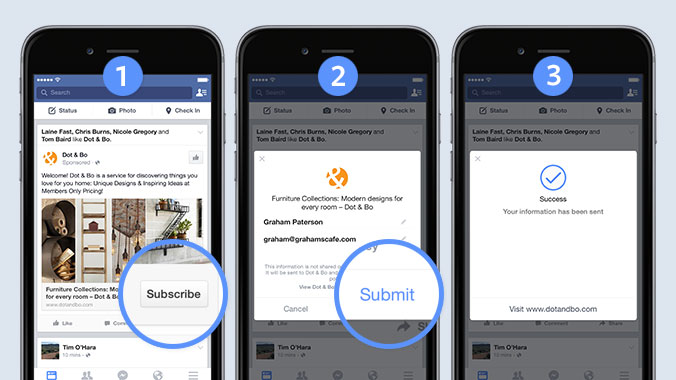 Including lead ads in your marketing mix
Although Facebook lead ads are a fantastic advertising tool for marketers, the key thing to understand is that this should not act as your only activity to build your database. Personal selling, content marketing and display advertising campaigns should still be used as avenues to acquire new sign ups to help complement your overall marketing strategy.
Would you like to find out how to boost your newsletter sign-ups? Assemblo can help. Contact us today by phoning (03) 9079 2555 or email [email protected] or get in touch via our contact form.